One thing that brought Vince and I together is our common love for food. Suffice it to say that I gained 20 pounds in the first six months of dating him. Our satiety thresholds are high, so as our appetite tolerance. We entertain ourselves by watching Food Network. We (try to successfully) cook and bake at home. We explore local restaurants. We simply love to eat. That being said, I'm dedicating Mondays for blogging about our gastronome-wannabe adventures ;) Hungry or not, here I come !
*******************************************

Last Saturday, we had our date night at Olive Garden, an American restaurant chain specializing in Italian-American cuisine. It has more than 750 local restaurants, and the closest one from where we live is in Harrisburg, Pennsylvania, which is about 45-minute drive away.
For antipasti (appetizer), we had a three-choice Sampler Italiano consisting of calamari, stuffed mushrooms and toasted beef and pork ravioli, served with parmesan peppercorn and marinara sauces on the side. I loved everything in this platter but my favorite was the stuffed mushrooms (parmesan, romano and mozzarella cheese, clams and herb breadcrumbs baked in mushroom caps).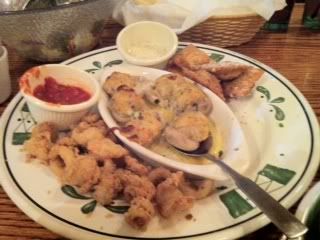 For primi piatti (first course), we had creamy chicken and gnocchi soup and a bowl of garden-fresh salad. Gnocchi are small, thick dumplings, similar to bilo-bilo (glutinous rice balls).
Now, comes the main course:
Vince had a Tour of Italy (homemade lasagna, lightly breaded chicken parmigiana and creamy fettuccine alfredo),
and I had a well-done Steak Gorgonzola-Alfredo (grilled beef medallions drizzled with balsamic glaze, served over fettuccine tossed with spinach and gorgonzola-alfredo sauce).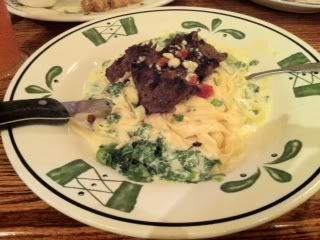 I paired up my sumptous meal with a Mango-Strawberry Limonata. This drink is a mixture of mango and strawberry puree, lemonade, and slices of fresh strawberry. Definitely healthier than sodas/carbonated drinks :)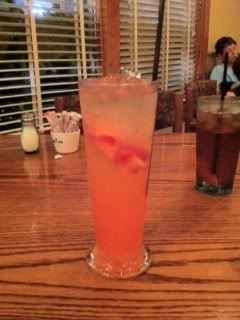 As usual, we didn't leave enough room for dessert! Maybe next time ;)
So after all that Italian dinner, Vince and I went home a couple of inches flubbier on the waist, $50+ poorer, but twice happier :)
*******************************************
*******************************************
My share for: