Hi guys! Guess what? I created a
new blog
. Yay!!!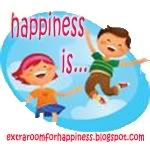 And that's why I haven't been able to visit your blogs for the past couple of days *oopps, sorry*. I was busy fixing up my new blog because I wanted to get it up and running this weekend, and guess what again? I'm ready to go live. Hooray!!! Makes me feel glad because now that my new blog is ready, I can get back to all of you, my awesome blogging buddies, who left me here some comments, messages, and love ♥ Thank you, all!
Anyweiz, my new blog is mainly dedicated for meme. Yes, I finally opened a meme - HAPPINESS IS... MEME. Woohoo! Basically, this meme - as the name implies - is for sharing "happy" posts. You most likely have come across a similar meme already, but hey, who says we can't have an extra room for happiness? :)
Having said that, I invite everyone to be a happy camper and join me in this meme which will launch on Friday, June 06, 2010 EST.
You can read the whole shebang here:
HAPPINESS IS... MEME DRILL
HAPPINESS IS... #1
Feel free to grab the badge above. Hope to see y'all there ☻